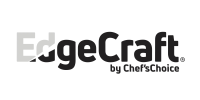 THE EDGECRAFT STORY

The Evolution of Sharpening: EdgeCraft's introduction of its inaugural electric sharpener took knife sharpening from its primitive roots of sharpening sticks, elementary sharpening wheels and stones, to the 21st century and state of the art sharpening technology. Forever changing the fundamentals of effective knife sharpening.
Electric Sharpeners - Using 100% diamonds, our patented abrasives utilize the hardest substance known to man to sharpen knife edges faster & easier.
Manual Sharpeners - Precision angle control ensures accurate sharpening throughout the entire length of the blade so you can get the most out of your tool.