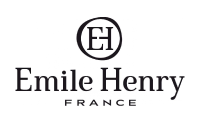 THE EMILE HENRY STORY
For 170 years, we have been upholding the pleasures of the palate and the joy of sharing, pure and simple. We manufacture ceramic cookware that enables you to prepare the most delicious dishes with ease. Proudly made in France, we maintain a tradition of Earth and Fire.
Emile Henry has always been committed to French craftsmanship. We remain true to our historic location in Marcigny, deep in the heart of Burgundy, and are proud to contribute to maintaining traditional skills as well as jobs. Each of our ceramic pieces is hand-crafted and signed by one of the craftsmen in our workshops.