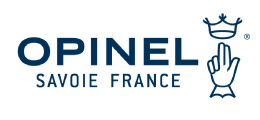 THE OPINEL STORY
From pocket to kitchen knives, all are Made in France.
Based in Chambéry, in the French department of Savoie, the Opinel company has produced long-lasting, robust and efficient knives for over 130 years: pocket knives, small foldable garden tools, high-end table knives and professional quality kitchen knife sets.
Knife collectors will love the limited edition luxury models. The brand, with its famous "crowned hand" logo, has also brought out a kids' knife collection, so little ones can safely prepare meals. For a unique, original and stand-out gift, our customisable knives are available to individuals, companies and restaurants.